ARMY OF THE WHITE WOLF
HANDGUNNERS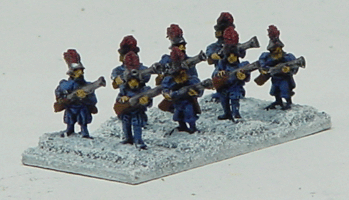 Handgunners are a great unit to have in any Empire army. However Middenheim is a very traditional place where gunpowder weapons are uncommon. I got round this by painting them in the colours of Middenland, which isn't quite as traditional minded.
I'll be adding another unit of these troops to my army shortly, again all in blue
The models in this unit are old test pieces that were designed when Warmaster was being playtested and that I was lucky enough to get hold of.